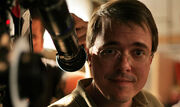 Vince Gilligan (born February 10, 1967 in Farmville, Virginia) is an award-winning American writer, director and producer who received a B.F.A. in film production from New York University's Tisch School of the Arts. In 1989, Gilligan received the Governor's Screenwriting Award in Virginia for his screenplay Home Fries. He joined The X-Files as a writer in 1995, ultimately writing or co-writing thirty episodes of that series as well as six episodes of spin-off series The Lone Gunmen. In 1997, Gilligan — along with Chris Carter, Frank Spotnitz and John Shiban — wrote "Memento Mori", an Emmy-nominated episode of The X-Files' fourth season.
Gilligan is also the creator and showrunner of Breaking Bad, a series which featured a mixture of drama and humor similar to some of his episodes of The X-Files.
Gilligan often likes to include "in-joke" references to his girlfriend, Holly Rice, in his scripts. For example, an FBI employee who kicks AD Walter Skinner in the episode "Pusher" is named Holly.
In the second movie of X-Files franchise, The X-Files: I Want to Believe, the name "Gilligan" can clearly be seen on Mulder's cell phone as he scrolls through its phone book for Scully's name, moments before Mulder becomes distracted by doing so and consequently crashes the car he is driving.
The X-Files
Edit
Episode
Credit
Season 2
Writer
Season 3
Writer/Creative Consultant
Creative Consultant
Season 4

"Memento Mori"
(writer w/ Chris Carter, John Shiban and Frank Spotnitz)

Writer/Co-Producer
Co-Producer
Season 5

"Christmas Carol"
(writer w/ John Shiban and Frank Spotnitz)
"Emily"
(writer w/ John Shiban and Frank Spotnitz)

Writer/Supervising producer
Supervising producer
Season 6
Writer/Co-Executive Producer
Co-Executive Producer
Season 7
Director/Writer/Co-Executive Producer
Writer/Co-Executive Producer
Co-Executive Producer
Season 8
Writer/Executive Producer
Executive Producer
Season 9
Director/Writer/Executive Producer
Writer/Executive Producer
Executive Producer
The Lone Gunmen
Edit
External Links
Edit