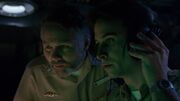 The United States Navy (USN) is the branch of the United States Armed Forces responsible for conducting naval operations.
Its stated mission is "to maintain, train and equip combat-ready Naval forces capable of winning wars, deterring aggression and maintaining freedom of the seas." The U.S. Navy currently numbers nearly 500,000 men and women on active duty or in the Naval Reserve and operates 281 ships and more than 4,000 aircraft.
History
After the incident in Roswell, Nevada, the Navy are in charge of operations dealing with abducting women, including FBI Agent Dana Scully, and impregnating them with alien fetuses aboard the USS Valor Victory. This ship was destroyed in 2001. (TXF: "Nothing Important Happened Today II")
In April 1948, the Navy ship USS Eldridge disappears from the Philadelphia Navy Yard and reappears in Norfolk, Virginia. (TXF: "Dod Kalm")
In 1991, the Navy destroyer escort USS Ardent was launched. (TXF: "Dod Kalm")
In July 1993, a Navy transport van was bombed by the extremist group known as the Isfahan. It was discovered that HTG Industries may have been selling them restricted material. (TXF: "Shadows")
In 1995, a Navy warship, the USS Ardent disappeared in the North Atlantic Ocean. (TXF: "Dod Kalm")
In 1998, the Navy was operating a classified project known as Project Seafarer out of the town of Montello, Nevada. (TXF: "Drive")
In 2000, a Navy jet collided with a UFO outside of Bellefleur, Oregon. (TXF: "Requiem")
Ranks
Admiral
Commodore
Chief Petty Officer
Petty Officer
External links
Community content is available under
CC-BY-SA
unless otherwise noted.