"Trust No 1" is the sixth episode of the ninth season of The X-Files.
Synopsis
Scully tries to arrange Mulder's return but learns that the forces against them are unrelenting.
Summary
Scully is approached by a couple, whose infant apparently shows the same strange abilities as William. The father, an NSA agent, discovered that their infant was part of the government's supersoldier project and begs her to call Mulder out of hiding to give him this information. Doggett and Reyes confirm that most everything the couple has presented gels with what they know of the supersoldiers, and at first Doggett encourages Scully to contact Mulder. Scully, fearful for Mulder's safety though desperately missing him, lies and says that she doesn't know where he went or how to get ahold of him (while absently touching a printout of an email he sent her at the beginning of the episode).

Later Scully is approached by another man who has been watching her for quite some time (going so far as to detail the first night Scully and Mulder made love) and tells her that he has files detailing the names of the supersoldiers that he will only give to Mulder. He tells her she only has one day to contact him before he disappears forever. Scully finally gives in and contacts Mulder, the temptation to see him again being far too much; she tells Doggett that she and Mulder had worked out a system to bring him back when he first left and that he would be arriving by train. Reyes, Doggett and the NSA agent cover Scully at the train station; as the train pulls up the NSA agent pulls a gun and aims it at Scully. Reyes sees this and knocks Scully down, but the agent keeps pointing his gun; the second man that contacted Scully appears with a gun drawn. He shoots the NSA agent and approaches Scully. Before he can kill her, Doggett appears and shoots him twice, sending him falling onto the train tracks where the train passes over him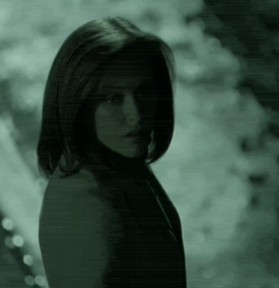 moments later.
Train security orders the train to keep going, and while Scully consoles the NSA agent's wife, Doggett returns saying that he can't find the other man's body. Scully, fearful that the man was a supersoldier pursuing Mulder, chases after the train with Doggett and Reyes. They get a call saying that someone jumped off a train and into a rock quarry. Doggett and Reyes chase after someone they believe to be Mulder while Scully goes deeper into the quarry. She is attacked by the supersoldier who is mysteriously attracted to the red rocks being mined there and is subsequently destroyed by them.
References
Background Information
Footage from various past episodes of The X-Files can be seen in this episode's teaser, while Scully's voice can be heard talking about her son, William. The episodes that footage is taken from include "Within", "all things", "The End", "Leonard Betts", "Pusher", "Never Again", "Paper Hearts", "Kill Switch", "Milagro", "The Field Where I Died", "Memento Mori", "Millennium", "Per Manum", "Demons" and "Dreamland II".
Due to the archive footage, this episode is the first of only four in Season 9 in which David Duchovny (Fox Mulder) appears, the others being "Jump the Shark" (in which he again appears in archive footage), "William" (in which Scully apparently sees a hallucination of Mulder) and the season finale, "The Truth".
This episode's tag line is changed to "They're Watching". In Latin America the episode title is the same as this tagline.
The dates in which this episode is set can be seen in Scully's e-mails to Mulder.
Cast
Starring
Special Guest Starring
Guest Starring
Co-Starring
External Links
Community content is available under
CC-BY-SA
unless otherwise noted.