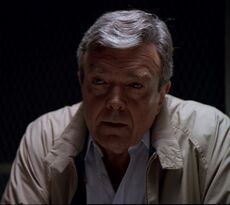 Thomas Tomson was a detective working out of Atlantic City that Special Agents Fox Mulder and Dana Scully encountered while working on a case involved a suspected sighting of the Jersey Devil. 
Getting in Mulder's way
Tomson was a hindrance to Mulder's investigation.  He clearly wanted to keep Jersey Devil sightings quiet to keep the tourists and their dollars flowing into the casino metropolis of Atlantic City. 
On first meeting, he tried to dismiss any aid in the investigation from the FBI and was quite rude to Mulder and Scully. 
When Mulder is arrested while staking out the streets where homeless people have sighted the creature, Tomson meets with Mulder and accuses him of interfering with his investigation while Mulder accuses Tomson of withholding evidence of what people have seen out there. What Mulder had seen that very night. Tomson doesn't believe in the creature and just assumes some killer is stalking the streets. 
Tomson eventually shows up with the SWAT team when Mulder and his allies (Scully, Dr. Diamond, & Ranger Peter Brullet) are closing in on the Jersey Devil. Tomson and his police team ultimately manage to catch up with the strange naked woman before Mulder can capture her. Tomson's men kill her. Mulder asks the man, "Why did you have to kill her?" Tomson replies, "Same reason you kill a rabid animal." Mulder and Scully returns to Washington while Tomson remains in this hometown thinking about the events that passed. (TXF: "The Jersey Devil")
Community content is available under
CC-BY-SA
unless otherwise noted.