Not to be confused with The X-Files character Robert Patrick Modell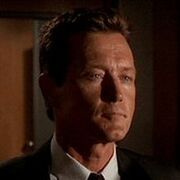 Robert Patrick (born November 5, 1958) is an American actor who portrayed FBI Special Agent John Doggett in the eighth and ninth seasons of the The X-Files television series.
His wife, Barbara Patrick, played Doggett's wife Barbara in two episodes of the series.
Before starring in The X-Files, Patrick was well known for his role as the T-1000 in the hit motion picture Terminator 2: Judgment Day.
Acting Roles
[
]
Appearances on The X-Files
[
]
Appearances in feature films
[
]
Die Hard 2 (1990)
Terminator 2: Judgment Day (1991)
Wayne's World (1992)
Spy Kids (2001)
Charlie's Angels: Full Throttle (2003)
Ladder 49 (2004)
Walk the Line (2005)
Firewall (2006)
Flags of Our Fathers (2006)
We Are Marshall (2006)
Bridge to Terabithia (2007)
Television appearances
[
]
Tales From the Crypt (1 episode, 1992)
The Sopranos (3 episodes, 2000)
Stargate: Atlantis (2 episodes, 2004)
Lost (1 episode, 2005)
Law & Order: Special Victims Unit (1 episode, 2005)
The Unit (28 episodes, 2006-2007)
Chuck (1 episode, 2010)
Psych (1 episode, 2010)
Burn Notice (2 episodes, 2010)
Scorpion (2014-2018)
External links
[
]