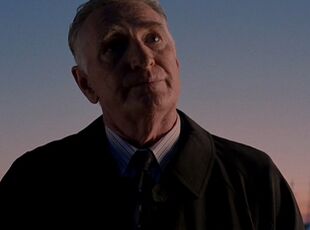 Ray Helm was a man deep in the intelligence community of the government. His secret codename was "Overlord." He was one of the major playerrs behind a planned terrorist attack against the World Trade Center which used the overriding of a jumbo jet's autopilot to steer the plane into the building.
At first he pretended to be a friend of John Byers' father but this was merely to use the Lone Gunmen for his own ends since he suspected Byers' father was still alive. Bertram Byers had learned of Helm and other conspirators plot to perpetrate a terrorist attack to increase their intelligence budgets and turned on them. So Helm sent an assassin to kill Bertram Byers but this assassin failed.
Ultimately, the Lone Gunmen figured out Helm was using them and fed him misinformation that would help them prevent the plane from crashing into the Trade Center.
Community content is available under
CC-BY-SA
unless otherwise noted.