OPR redirects here. You may have been looking for Office of Professional Responsibility.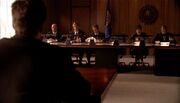 The Office of Professional Review (occasionally abbreviated as OPR) was an FBI board of representatives who questioned Special Agents Scully and Mulder in 1998. Among the members of OPR were Assistant Director (AD) Walter Skinner. Also, most questions during the OPR hearings were asked by either Assistant Director Jana Cassidy or, later, AD J. Maslin. Although both Skinner and Maslin held the rank of Assistant Director, the power of OPR was such that Skinner was required to follow orders issued to him by AD Maslin. (The X-Files Movie, TXF: "The Beginning") Special Agent Diana Fowley was also answerable to OPR, the members of which ultimately assigned AD Alvin Kersh to supervise assignments provided to Mulder and Scully. (TXF: "The Beginning")
In The X-Files Movie, the room used for the Office of Professional Review was actually on the abandoned twenty-sixth floor of the Unical building in downtown Los Angeles. The room was primarily lit by six 20Ks aimed through faux windows created by the art department and covered in 1000H paper, wrapping soft but directional light around the actors. [1]
Community content is available under
CC-BY-SA
unless otherwise noted.