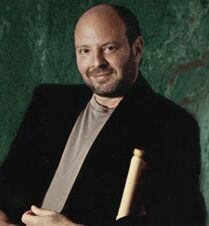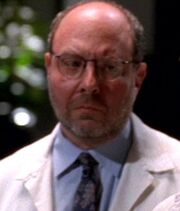 Mark Snow (born Martin Fulterman on 26 August, 1946, in New York City) is a prolific film and television composer, who wrote the majority of music used in The X-Files, Millennium and The Lone Gunmen series as well as film scores for The X-Files Movie and The X-Files: I Want to Believe.
Snow graduated from the Juilliard School in New York City. He was a co-founder of the New York Rock & Roll Ensemble.
The theme music he wrote for The X-Files is one of his most famous compositions and is recognizable even to those with the most passing acquaintance of the show. He has admitted that unused lyrics for the theme are "The X-Files is a show/with music by Mark Snow". The X-Files typically used more instrumental music score than most hour-long dramas. Mark Snow occasionally used variations of a single melody in many episodes ("F. Emasculata" and "Gethsemane", for example).
Snow and his music are referenced in the title of the Season 3 Millennium episode "The Sound of Snow". In The X-Files' Season 8 episode "Per Manum", Mark Snow made an unspeaking, uncredited cameo as a doctor. Snow also made a cameo in the episode "Leonard Betts" as a doctor assisting Scully with a decapitated head.
Mark Snow also compsed the theme music for the spin-off "The Lone Gunmen", as well as a small amount of incidental music for the series, but not as much as for "The X-Files", due to the use of contemporary popular music.
Mark Snow has also composed much of the music for Smallville and has even composed music for the video game Syphon Filter: Dark Mirror. He has been nominated for 12 Emmy Awards and has won 18 ASCAP awards.
Roles
[
]
External links
[
]