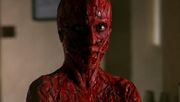 Lisa Holland 
was a doctor and ex-convict (TXF: "
Hellbound
") who was involved in a mysterious situation where group of ex-cons being skinned alive. She was portrayed by Katy Boyer.
Background
In Novi, Virginia, a group of ex-convicts, led by Lisa Holland met to discuss atoning for their sins. Another member, Ed, told him that humans are unable to change and that they are both destined for hell. Ed's friend, Victor Potts told Holland that he's been having nightmares involving people being skinned alive. That night, he has a vision of Ed skinned. Several hours later, Victor is skinned and murdered. Monica Reyes is assigned to the case and examines Victor's body. Reyes explained that, because Potts had a premonition of his death, the case is an X-File. Meanwhile, at a butchery, Terry and Ed get into an argument. Terry later has a vision—similar to Victor's—in which Ed is skinned alive. That night, he is attacked and brutally flayed.
Community content is available under
CC-BY-SA
unless otherwise noted.