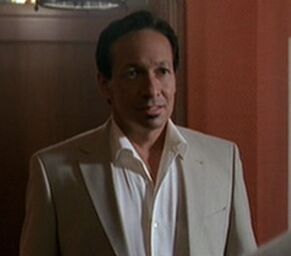 Leonardo Santavos was the rich, powerful, and handsome international smuggler who was planning on selling a composite alloy that could be used to make planes or missiles or whatever was needed that were invisible to radar. This Argentine crime lord was also a Tango dancer of international level status, having won many competitions with his partner Carlotta.
After the strange events at the docks that had his lieutenant, Mariano Cuchillo, tied up and Emanuel Morales losing his boat to a blonde woman, Santavos ordered Cuchillo to tie up the loose ends in preparation of their big trade of the composite to an arms dealer. This included the murder of Emanuel Morales.? The competition was to be the site of the trade so when Carlotta was suddenly unable to compete, Santavos was happy to find Yves Adele Harlow at the dance studio where he practiced. His enforcer Cuchillo found this to be far too convenient and after he showed that Yves Adele Harlow had probably sabotaged Carlotta since Cuchillo had also had his hand swell up when exposed to Harlow's perfume, Santavos was willing to confront her. She convinced him that it was just perfume by swapping her perfume and the chemical agent that caused the swelling. Her performance as being insulted at his accusation helped it go over well too.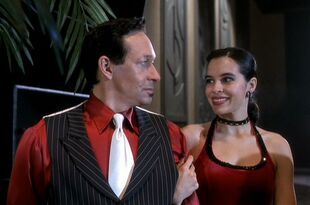 In any case, Santavos had grown close to Yves Adele Harlow over their time together practicing Tango. He seemed to have developed genuine feelings for her. As such when Cuchillo once again found proof of her betrayal of them, Santavos gave her a way to prove herself: killing Langly. Langly faked his murder at her hands and when Cuchillo realized Langly was not dead, he went to deal with Yves. Santavos saw Frohike snatch the CD from his buyer and looked at Yves with the realization that she had betrayed him. He saw Cuchillo arrive with knife in hand ready to kill Yves. As Cuchillo flipped his knife into the throwing position, Santavos looked at Yves' apologetic and heartbroken expression, and spun her around. The switchblade caught him in the back and he slowly sagged to floor as Yves watched with tears in her eyes, holding him as he gradually slid down.
Perhaps he believed she hadn't betrayed him or maybe he just couldn't bring himself to see her harmed or, most likely, he loved her and wouldn't rather die than let her die even if she had betrayed him. Whatever the motivation, it was a noble final sacrifice for Leonardo Santavos. Even evil can have a heart.