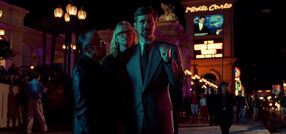 Las Vegas
Las Vegas is a city in the American state of Nevada . Its population is 603,488 (2013).  Situated in the Mojave Desert, it is famous for its vibrant nightlife, centred around 24-hour casinos and other entertainment.
Mulder and Scully make inquiries using public phones to avoid traces in the McCarran Airport in Las Vegas (TXF: "E.B.E.")
In 1999, Morris Fletcher visited the Def-Con 99 in Las Vegas.  In the same convention, The Lone Gunmen (TV series) were attending and Byers played as a poker player undercover. During this visit, they also found Susanne Modeski who they had encountered years before. They helped Modeski and ended up faking her death there. (TXF: "Three of a Kind ").
Community content is available under
CC-BY-SA
unless otherwise noted.