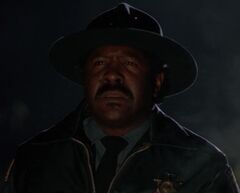 Jason Wright was a sheriff's deputy in Townsend, Wisconsin. He was married with a son.
He was on duty driving through the woods one night when he observed a sudden and, to him, inexplicable explosion in the vicinity of the road he was on. Stopping his Ford Explorer, he attempted to contact police headquarters to report a fire and request assistance from the fire department, but received only static.
Although his radio wouldn't receive, it transmitted just fine, and Wright's request for assistance had been relayed to the fire department who sent a truck and firefighting crew to his location not long afterward. However, Wright didn't know this, and, getting his flashlight, he exited his vehicle and entered the woods to investigate the source of the explosion.
What Wright also was unaware of was that the explosion had been caused by a crashlanding UFO. Halfway to the crash site, he started getting the uncanny feeling that he wasn't along in the woods, and that someone or something was sneaking around him, although whoever it was refused to show themselves when he demanded. Eventually, the thing, which turned out to be invisible to human eyes, rushed at Wright headlong, who screamed uncontrollably as he was engulfed in a bright white light.
When the fire crew arrived shortly afterward, they found a badly burned Deputy Wright before meeting the same fate as the policeman. Although all of the men survived their encounter with the alien, and were rushed to the hospital where Dr. Oppenheim treated their horrific burns, none of them survived the severity of the wounds the unseen alien had inflicted, and Wright died shortly thereafter.
Appearances
Community content is available under
CC-BY-SA
unless otherwise noted.