Gillian Leigh Anderson (born August 9, 1968, Chicago, Illinois) is an actress known to fans of The X-Files for her portrayal of FBI Special Agent Dana Scully.[1]
She was married to Clyde Klotz from January 1, 1994 until 1997. They had a daughter together, Piper Maru, on September 25, 1994. The X-Files' creator, Chris Carter, was named Piper's godfather. In 2004, she married Julian Ozanne. They announced their separation on April 21, 2006. On November 1, 2006, Anderson and boyfriend Mark Griffiths welcomed a son named Oscar Griffiths and on October 15, 2008 welcomed another son named Felix Griffiths. In 2012, Anderson and Mark Griffiths ended their relationship.
She was given "special thanks" from the production of the Don Quixote-inspired film Tilt, which starred Tom Braidwood and C. Ernst Harth.
She recently starred in the popular BBC series Bleak House and was nominated for a BAFTA and an Emmy Award for the role. She has also appeared in numerous films, including The Last King of Scotland and Johnny English Reborn.
Roles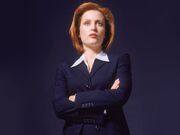 Writer Credits
Director Credits
External links
References