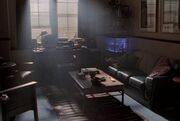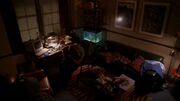 Fox Mulder's apartment was the residence of Fox Mulder, from at least as early as November 1990 until 2001. (TXF: "Travelers", "Nothing Important Happened Today") Mulder went into hiding in 2001, emerging briefly in 2002 (although not returning to his apartment at this time), and shared an old farmhouse with his former FBI partner, Dana Scully, by 2008. (The X-Files (season 9), TXF: "The Truth", The X-Files: I Want to Believe)
Appendices
Background Check
The number of Mulder's apartment is 42, which can be interpreted as a reference to Douglas Adams' Hitchhiker's Guide.
Mulder's pet goldfish were added to the set for his apartment during the run of the series, due to a script reference to the fish. "So, we got him a fish tank," explained Set Decorator Shirley Inget, "and it's kinda nice, 'cause he's got a little pet at home, you know?" ("Behind the Truth: Mulder's Office", TXF Season 1 DVD special features)
Prior to the making of The X-Files: Fight the Future, the set for the interior of Mulder's apartment was located in Canada. For the film, the set was re-created on stage at Fox to mirror its Canadian predecessor. [1]
Appearances
Season 1
Season 2
Season 3
Season 4
Season 5
The X-Files: Fight the Future
Season 6
Season 7
Season 8
Season 9
Community content is available under
CC-BY-SA
unless otherwise noted.