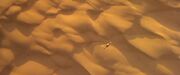 Foum Tataouine is a location in Tunisia.
In 1998, the Cigarette-Smoking Man traveled there to deliver news to Conrad Strughold that the X-Files had been reopened. By the time the Cigarette-Smoking Man arrived, a cornfield had been planted in the desert and this was where the Cigarette-Smoking Man found Strughold. (The X-Files Movie)
Foum Tataouine, also known simply as "Tataouine", is an actual town in Tunisia and its name inspired the naming of the planet Tatooine in the Star Wars films, which frequently used Tunisia as a filming location. In the The X-Files Movie's DVD commentary, director Rob Bowman reveals another connection to Star Wars when, regarding footage in the movie of a helicopter flying over Foum Tataouine prior to the Cigarette Smoking Man's arrival, he remarks, "Then we've got this footage of a helicopter over the sand dunes of, I think, Southern California somewhere down near the border of Mexico. Really wonderful footage shot by E.J. Forrester where apparently they shot a lot of the Star Wars, the first Start Wars desert footage."
External links
Edit
Community content is available under
CC-BY-SA
unless otherwise noted.