Special Agent in Charge Fossa was a senior member of the Federal Bureau of Investigation. In 2008, she was part of an FBI team that consecutively searched for missing Agent Monica Bannan and then Cheryl Cunningham.
SAC Fossa was present in Conference Room 5 of the J. Edgar Hoover FBI Building in Washington D.C. in 2008, quietly conversing with Dakota Whitney in a corner of the busy room while standing with her arms folded, as former Special Agents Mulder and Dr. Scully were led into the room by Special Agent Drummy. With her arms still folded, Fossa assumed a position next to a wall of the room, where she watched as Whitney briefed Mulder and Scully, the two former agents joining the search effort for Agent Bannan.
SAC Fossa later visited an FBI facility in Quantico, Virginia, where she stood with other members of FBI personnel, including Dakota Whitney and Special Agent Drummy, as Mulder first questioned Father Joe about a vision he claimed to be having of Cheryl Cunningham and subsequently arranged to have a car readied.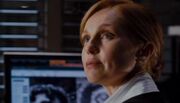 After she returned to FBI Headquarters in Washington, D.C., SAC Fossa was sitting at a computer terminal when she answered a telephone call from Dr. Scully before handing the phone to Agent Drummy, telling him that the call was for him, and leaving the computer terminal. (The X-Files: I Want to Believe)
Special Agent in Charge Fossa was played by Sarah-Jane Redmond, who had previously appeared as a recurring character named Inga Fossa in four of the nine episodes of Chris Carter's short-lived Harsh Realm television series.
In the closing credits of The X-Files: I Want to Believe, this character is only credited as "Special Agent in Charge", with the omission of her name.