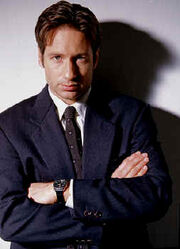 David William Duchovny (born August 7, 1960) is an American actor, writer, producer, director, novelist, and singer-songwriter, best known for his portrayal of FBI Special Agent Fox Mulder in The X-Files television series, as well as the two feature-length films: The X-Files: Fight the Future and The X-Files: I Want to Believe.
In addition to being the lead star, Duchovny has written several episodes of The X-Files (typically with series creator Chris Carter), and has also directed three episodes: The Unnatural, Hollywood A.D. and William.
In the shows original run from 1993–2002, Duchovny's appearances were reduced for the last two seasons, appearing in half of the Season 8 episodes, before returning only for the Season 9 finale.
Duchovny's performance, along with The X-Files co-star Gillian Anderson, who played Dana Scully, has received widespread acclaim.
Personal life
[
]
David Duchovny earned an undergraduate degree from Princeton University and a graduate degree in English Literature from Yale University, which is when he began studying acting. He abandoned his doctoral studies to become a full-time actor.
Duchovny was married to actress Tea Leoni – who appeared in TXF: "Hollywood A.D.", playing as Dana Scully's actress – and they have two children but are now divorced. He previously dated actress Perrey Reeves. He is also the brother of actor Daniel Duchovny. His daughter Madelaine made her acting debut in the Season 11 finale "My Struggle IV".
Credits
[
]
Acting
[
]
+Season 1
+Season 2
+Season 3
+Season 4
+Season 5
+Season 6
+Season 7
+Season 8
+Season 9
+Season 10
+Season 11
Writer/Director credits
[
]
Season 2
Season 3
Season 6
Season 7
Season 9
Other Roles
[
]
David Duchovny also starred as Hank Moody in the American drama and comedy series Californication. His performance in Californication garnered him a Golden Globe Award for Best Performance by an Actor in a Television Series – Musical or Comedy, in the 2007 Golden Globe Awards. Duchovny also appeared in films like Evolution and The Joneses.
External links
[
]