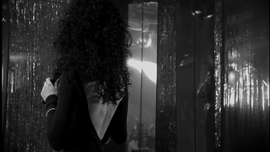 Cher is an American pop/rock singer, songwriter, actress, director, author and all-around entertainer. She first rose to prominence in the mid 1960s as one half of the pop/rock duo Sonny & Cher. She also established herself as a solo artist, releasing 26 albums, numerous compilations and achieving 22 Top 40 hits, (including 12 Top 10 hits) over her career. She became a successful television star in the 1970s and a serious film actress in the 1980s. In a career that has now surpassed 40 years, Cher has emerged a pop-culture icon and one of the famous, enduring, greatest and respected entertainers of all time.
The Great Mutato loved Cher. He listened to her music all the time, playing it loud and dancing while intruding on other peoples' homes. He also had a shrine dedicated to her in his basement home, and enjoyed her film Mask. To celebrate his entry into the real world, Mulder and Scully took The Great Mutato to a Cher performance. Even Mulder and Scully had a good time dancing together at the show. (TXF: "The Post-Modern Prometheus")
Cher was performed by Tracey Bell
Trivia
The role of Cher was written for Cher herself, a major X-Files fan. She declined at the time as she thought that her appearance would be a bit tacky. However, she regretted this decision after viewing the episode when it aired.
Community content is available under
CC-BY-SA
unless otherwise noted.