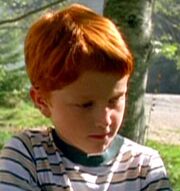 Charles "Charlie" Scully was the son of William and Margaret Scully and the younger brother of William Scully, Jr., Melissa Scully, and Dana Scully.
History
[
]
Charles Scully often made World War II model planes with his father and brother. (TXF: "Piper Maru") He and William, Jr. once gave Dana a B.B. gun as a birthday present. Charles and his brother showed Dana how to use the gun and, even though their father had told them only to shoot cans, Charles and his siblings began shooting at a garter snake, eventually killing it. (TXF: "One Breath")
Shortly after Christmas 1993, Charles attended his father's funeral, at which only family members were present. He stood with a female partner as well as two boys. (TXF: "Beyond the Sea", "all things")
Judging by on-screen evidence only, Charles' attendance of his father's funeral is not definite but is probable. He seems to be one of two couples at the ceremony, standing with two boys. The episode's script confirms his presence in the scene – though he is unnamed in the teleplay – and gives his age, at that time, as twenty-five. The same person, viewed in the same shot, makes a brief return appearance in archive footage in the Season 7 episode "all things".
Later the same year, Charles was indirectly referred to by his sister Dana, when she told her FBI partner, Fox Mulder, that she had a younger brother (as well as an older one). (TXF: "Roland")
After Charles' other sister, Melissa, was killed, Charles sent presents to the other surviving members of his family, who were staying at William, Jr.'s house for Christmas in 1997. (TXF: "The Blessing Way", "Christmas Carol") At least one of these gifts was for Dana. (TXF: "Christmas Carol")
Margaret Scully asked for Charles shortly before her death in 2016; at that time Dana commented that Charles had been estranged from the family for years, and that she didn't even know where he was. After receiving a call from William, Jr., about their mother's condition, Charles reached Dana by telephone.
Moments before Margaret died, Charles spoke to Margaret by phone at Dana's behest. (TXF: "Home Again")
Appearance
[
]
Additional References
[
]
Background Information
[
]
Of all the members of the Scully family who recur in various episodes of The X-Files, least information is revealed about Charles Scully.
In a deleted scene from "Memento Mori", William, Jr., visiting Dana in hospital while she has cancer, tells her that Charles is sorry he couldn't come but will call her that night, if she is feeling up to it.
His voice in "Home Again" was provided by uncredited sound mixer Andrew Morgado.
The unproduced script "Flight 180" by Jeffrey Reddick would have seen the X-Files investigating Charles, who was under suspicion by law enforcement after he'd got off a flight with several friends after having a premonition that the plane would crash - which it did, shortly after.
References
[
]
[

]