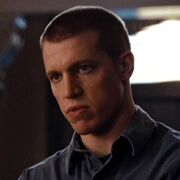 Blair Fearon was the father of Christian Fearon and the husband of Margaret Fearon.
Upon visiting his young son (who was ill with Sandhoff disease) at Our Lady of Sorrows Hospital in 2008, Blair followed Margaret and a wheelchair-bound Christian Fearon into a corridor as Margaret wheeled Chistian out of his ward. After Dana Scully (Christian's doctor) approached Blair and his wife, he informally asked her if she had some outside opinions, to which Scully answered positively. Blair learned that the hospital's medical staff were about to do some more tests on Christian but the conversation was then brought to an abrupt end, due to Scully being distracted by the arrival of FBI Special Agent Drummy.
After Scully authorized that Christian would undergo a series of stem cell therapy procedures, Blair and his wife once again visited their son – although Christian was sleeping on this occasion – and they approached Dr. Scully as she neared the bottom of a flight of stairs in the hospital. By way of explanation regarding their presence there, Blair politely asked if they could satisfy their eagerness to talk with her about Christian and, after Margaret told her that they had been into see their sleeping son, Blair slightly interrupted his wife to abruptly announce that they had changed their minds, about proceeding with their son's new treatment. In response to Scully subsequently retorting that they did not yet know whether the set of treatments was working, Blair glimpsed at Margaret as he told Scully that they thought their son had already endured enough. He confirmed for Scully that they had spoken to Father Ybarra but firmly stated that the decision was their own.
Blair was later standing with Margaret and Father Ybarra at one end of a corridor while Scully passed them, on her way to conduct another of the procedures on Christian; the threesome watched Scully as she passed them. (The X-Files: I Want to Believe)
Blair Fearon was played by Spencer Maybee. The character's forename is never established during the fictional events of the film but is provided in the film's end credits sequence.
Community content is available under
CC-BY-SA
unless otherwise noted.