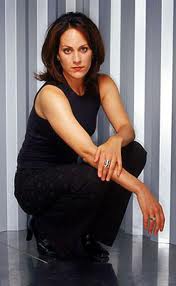 Annabeth Gish (born March 13, 1971 in Albuquerque, New Mexico) is an actress known to X-Files fans for her portrayal of FBI Special Agent Monica Reyes in the eighth and ninth seasons.
Gish married in 2003 to stunt coordinator Wade Allen and they have two sons.
She had an infrequent recurring role on The West Wing from 2003 to 2006 as Elizabeth Bartlet Westin, the eldest daughter of President Jed Bartlet.
External links