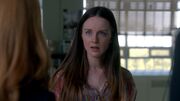 Agnes
was a young pregnant girl, desperate to escape from the
Our Lady of Sorrows Hospital
(TXF: "
Founder's Mutation
), who was part of Goldman's project and later killed to cover it up. She was portrayed by
Kacey Rohl
.
Appearances
She first approaches the agents, desperate to escape, saying "I don't belong here with these sheep," and declaring she wants to keep her baby despite him having deformities. Later, Mulder gets a text that Agnes is dead, hit by a car, baby surgically removed – no proof she was part of Goldman's project.
Community content is available under
CC-BY-SA
unless otherwise noted.