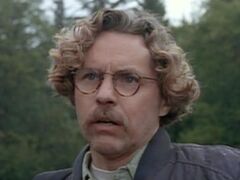 Adam Pierce was a scientist working at the California Institute of Technology attached to the Firewalker project, and an old colleague of Daniel Trepkos'. He often disagree with Trepkos' theories and methods. At the Institute's Volcano Observatory in Pasadena, Pierce was summoned by Vosberg with some alarming information that Firewalker (robot) had made an unscheduled descent into the crater of Mount Avalon.
The two used Firewalker's remote camera to see inside the volcano and were shocked to see the dead body of Phil Erickson inside the volcano. Suddenly a shadow fell over Erikson's body and someone disabled Firewalker (robot)'s camera. Concerned about going through proper channels, Pierce sought help from Fox Mulder and Dana Scully at the FBI, and the three flew by helicopter out to Trepkos' research outpost near Mt. Avalon.
Mulder and Scully went inside immediately, where they found Trepkos' colleagues Jessie O'Neil, Jason Ludwig and Peter Tanaka, while Pierce wandered off by himself to check to see that the project's field instruments were still intact, only to be waylaid by a crazed and badly burned Trepkos, who killed him by breaking his neck.
Appearances
Community content is available under
CC-BY-SA
unless otherwise noted.